Our work allows us to provide services such as meals to families who are experiencing difficulties due to illness of a loved one at local hospital ICU units in the Greater Jackson Area.
We serve Baptist Medical Center, on Tuesday, Wednesday and Thursday mornings, UMMC Pediatric unit, on Tuesday and Thursday mornings and Ronald McDonald house the second Friday of every month.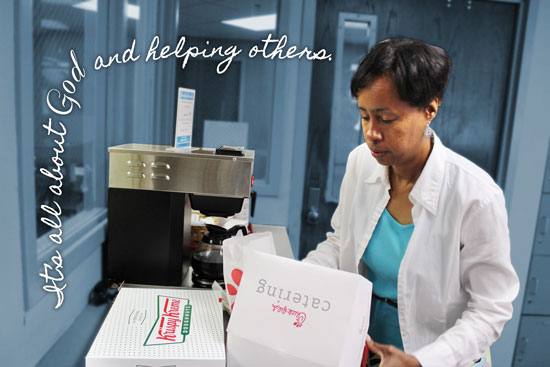 We believe the Bible to be the inspired and authoritative Word of God. There is one God, existent in three persons: The Father, The Son and the Holy Spirit.
Core Values
People are Important
God loves people and people are the most important asset on the earth.
Working with Passion
In order to serve, we must have a passion and a love for helping people. Christ is our prime example.
Always doing what is Right
Our determination and desire is to be the people God called us to be in our character and conduct, with honesty and integrity.
Reaching Beyond Ministries, Inc. was born out of a sincere desire to help those in need.
The work began in 2005 and the non-profit organization was formed several years later. This work has served and touched many and is continuing to touch many lives.
Mission Statement
Reaching Beyond Ministries, Inc. exists to fulfill the Commandment of loving our neighbor as God loves us.
Vision
Reaching Beyond Ministries, Inc. is committed to reaching out to help improve and enrich the lives of those in need.
Thank you so much for partnering with us. Part of what keeps us going is your generosity and your willingness to partner with us to make a difference in the lives of others. This is something we don't take lightly.
Thanks again, God Bless.